Hot Air Balloon Flights from Bristol
Click to view a flight
For a Champagne flight in our larger balloon click 'Purchase a new voucher' above,
for exclusive flights for 2, 3 or 4, click

here
Book with confidence with a long established, family run, Bristol company striving to deliver the best experience and customer service. See our Trip Advisor reviews via the link above, look at other companies reviews before you buy! Also we do not pass on credit card or similar transaction charges as additional extras.
We schedule flights from the Ashton Court estate in Bristol nearly every day during our flying season,* can nationally based companies say this? Flights can generally booked at short notice, if you'd like to fly with us you won't need to wait months to book your flight!
Treat your partner, family or a friend (or yourself!) to a fabulous champagne hot air balloon flight, it's a superb experience away from the hustle and bustle of day to day life, eagerly awaited and always remembered.
If you would like to fly somewhere other than Bristol look at our other launch areas (see 'Where we fly from' top left).
Need your gift voucher in a hurry? Using our online booking system you can have your gift voucher and paperwork (once you've printed it) within minutes, or you can choose to email the voucher direct to the passenger together with a personalised message. If you would prefer to speak to somebody, or you have a question, please give us a call.
Visit our Frequently Asked Questions page for more information on ballooning (including meeting times).
Only visiting the area on a short break? Please give us a call, or complete an online enquiry form, to discuss the options we have available for you.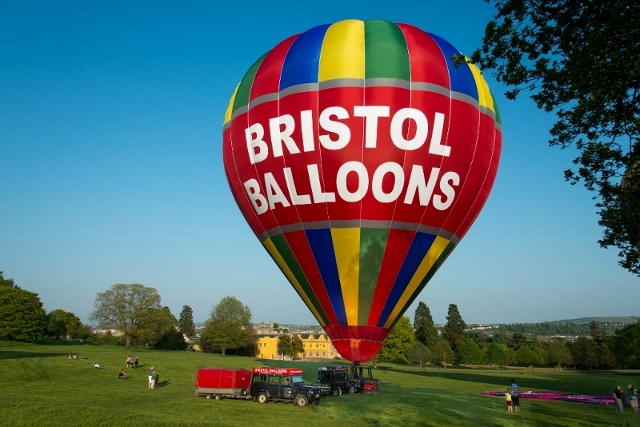 * Our flying season is March to October. If you would like to fly during the winter months our Exclusive Flights are available all year round, please click the right hand button above (Purchase a new voucher) or give us a call for more information.
If you are booked onto a flight but don't have access to your Booking and Meeting Arrangements please click here and scroll down to the bottom of the page, where you will find the contact number for each flight area.
Bristol Balloons is part of Ballooning Network Ltd Registered in England & Wales No 4129672, along with Bath Balloons